The Coroner No More Color Tour '90 video is an approximately 50 minute concert VCR tape. It was shot in East Berlin during the band's No More Color tour and was released in 1990 by Strand/VCI Entertainment.
Songs that are included on the release are from the band's first three albums.
Track list
Edit
Personnel
Edit
Vetterli's microphone did not work for the show.
The band has viewed their discontent over the recording, as they had wanted it to be at a smaller venue and more dimly lit (which it is evident a big lighting rig was used for the show) and were assured it would not be released if they didn't want it to be, which it obviously was anyway. They also stated that they would do another video, with several songs, film footage and interviews within a year[1]; as of 2011, this show has still not surfaced though.
"Last Entertainment" is listed, but was not played for the concert, the song was just played during the end credits. Also, during the end credits of the show (but not on the back of the box), "Purple Haze" is also listed, but it was not played at all.
The label on the tape reads Coroner No More Color Tour '90, although on the box, the title appears to be 1990 No More Color Tour Live in East Berlin.
References
Edit
↑

Vol. 35, #12, December, 1991 issue of Metal Maniacs magazine interview with Coroner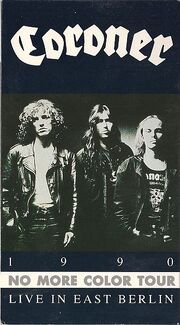 Ad blocker interference detected!
Wikia is a free-to-use site that makes money from advertising. We have a modified experience for viewers using ad blockers

Wikia is not accessible if you've made further modifications. Remove the custom ad blocker rule(s) and the page will load as expected.