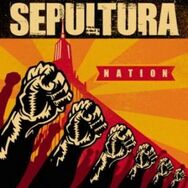 Nation is the seventh studio album by Brazilian heavy metal band Sepultura, released in March 20, 2001. through Roadrunner Records.
According to the official site, a video for "One Man Army" was scheduled to be filmed at the end of August 2001. However, due to a lack of support from Roadrunner Records, the video was never made. Sepultura blamed Roadrunner Records for not promoting the album and left for SPV Records in 2002.
Track listing
Edit
"Sepulnation" - 4:20
"Revolt" - 0:56
"Border Wars" - 5:10
"One Man Army" - 5:27
"Vox Populi" - 3:41
"The Ways of Faith" - 4:53
"Uma Cura" - 3:14
"Who Must Die?" - 2:58
"Saga" - 4:37
"Tribe to a Nation" (feat. Dr. Israel) - 2:48
"Politricks"
"Human Cause" (feat. Jamey Jasta of Hatebreed) - 0:57
"Reject" - 2:59
"Water" - 2:44
"Valtio"
Personnel
Edit
Sepultura
Productions
Ad blocker interference detected!
Wikia is a free-to-use site that makes money from advertising. We have a modified experience for viewers using ad blockers

Wikia is not accessible if you've made further modifications. Remove the custom ad blocker rule(s) and the page will load as expected.