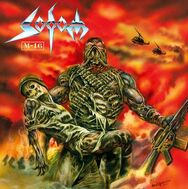 M-16 is the tenth album by the German thrash metal band Sodom. It was released on 2001 via Steamhammer. The album is a concept album about the Vietnam War and is named after the rifle used by many U.S. soldiers during the war.
Track listing
Edit
"Among the Weirdcong" - 5:07
"I Am the War" - 4:06
"Napalm in the Morning" - 5:56
"Minejumper" - 3:11
"Genocide" - 4:49
"Little Boy" - 4:08
"M-16" - 4:49
"Lead Injection" - 6:24
"Cannon Fodder" - 3:53
"Marines" - 3:55
"Surfin' Bird" (cover: The Trashmen) - 2:39
The digipak edition contains two tracks taken from the 1982 Witching Metal demo recording:
"Witching Metal" 3:10 (bonus)
"Devil's Attack" 3:12 (bonus)
The intro sample in "Napalm in the Morning" is taken from the movie Apocalypse Now. The sample in "Marines" is taken from the movie Full Metal Jacket.
Personnel
Edit
Tom Angelripper - bass guitar/vocals
Bernemann - guitars
Bobby Schottkowski - drums
Ad blocker interference detected!
Wikia is a free-to-use site that makes money from advertising. We have a modified experience for viewers using ad blockers

Wikia is not accessible if you've made further modifications. Remove the custom ad blocker rule(s) and the page will load as expected.