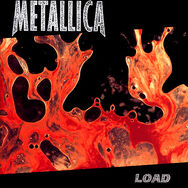 Load is the sixth studio album by the American heavy metal band Metallica. Released on June 4, 1996 through Elektra Records, it sold 680,000 units in its first week (making it the biggest opening week for Metallica) and debuted (and spent four consecutive weeks) at #1 on Billboard 200. The album has sold over 5 million copies worldwide and is certified 5x platinum by the RIAA. Six singles were released in part of the marketing campaign of the album: "Until It Sleeps", "Ain't My Bitch", "Hero of the Day", "Mama Said", "King Nothing", and "Bleeding Me".
The album garnered backlash from a portion of the band's fan base because of a shift in tone from the group's previous efforts (Load features a bluesier sound than the band's previous outings). According to drummer Lars Ulrich: "This album and what we're doing with it – that, to me, is what Metallica are all about: exploring different things. The minute you stop exploring, then just sit down and fucking die." "The House Jack Built", "Cure", "Ronnie", and "Thorn Within" have never been played live. Only "Thorn Within" and "Cure" had occasional jam sessions throughout 1997 but were stopped thereafter.
Track listing
Edit
"Ain't My Bitch" - 5:04
"2 X 4" - 5:28
"The House Jack Built" - 6:38
"Until It Sleeps" - 4:28
"King Nothing" - 5:29
"Hero of the Day" - 4:21
"Bleeding Me" - 8:18
"Cure" - 4:54
"Poor Twisted Me" - 4:00
"Wasting My Hate" - 3:57
"Mama Said" - 5:20
"Thorn Within" - 5:51
"Ronnie" - 5:17
"The Outlaw Torn" - 9:48
Personnel
Edit
Metallica
Production
Bob Rock, James Hetfield, Lars Ulrich – producers
Brian Dobbs, Randy Staub – engineers
Brian Dobbs, Jason Goldstein, Kent Matcke – assistant engineers
Randy Staub, Mike Fraser – mixing
Matt Curry, Mike Rew – mixing assistants
George Marino – mastering
Paul DeCarli – digital editing
Mike Gillies, Chris Vrenna – digital editing assistants
Chris Vrenna – programming
Andie Airfix – design
Andres Serrano – cover design
Anton Corbijn – photography
Ad blocker interference detected!
Wikia is a free-to-use site that makes money from advertising. We have a modified experience for viewers using ad blockers

Wikia is not accessible if you've made further modifications. Remove the custom ad blocker rule(s) and the page will load as expected.