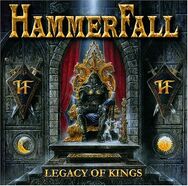 Legacy of Kings is the second album from Swedish metal band HammerFall. It was released September 28, 1998 on Nuclear Blast Records.
The enhanced CD release included the music video for the track "Let the Hammer Fall", a photo gallery, lyrics for the songs, PC wallpapers & a screensaver, and a Winamp skin only on the Bonus Deluxe Edition. The cover art for this album was painted by Andreas Marshall.
Track listing
Edit
"Heeding the Call" - 4:30
"Legacy of Kings" - 4:13
"Let the Hammer Fall" - 4:16
"Dreamland" - 5:42
"Remember Yesterday" - 5:04
"At the End of the Rainbow" - 4:05
"Back to Back" (Pretty Maids cover) - 3:39
"Stronger Than All" - 4:29
"Warriors of Faith" - 4:45
"The Fallen One" - 4:23
Personnel
Edit
Ad blocker interference detected!
Wikia is a free-to-use site that makes money from advertising. We have a modified experience for viewers using ad blockers

Wikia is not accessible if you've made further modifications. Remove the custom ad blocker rule(s) and the page will load as expected.