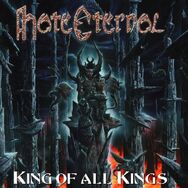 King of All Kings is the second album by the American death metal band Hate Eternal. It was released on September 16, 2002 on Earache Records, and like their debut it was produced by the band's frontman Erik Rutan.
Track listing
Edit
All song by Erik Rutan except when noted.
"Our Beckoning" – 0:49
"King of All Kings" – 2:49 (Rutan, Anderson)
"The Obscure Terror" – 3:53
"Servants of the Gods" – 2:56
"Beyond Redemption" – 3:08 (Rutan, Anderson)
"Born by Fire" – 3:43 (Rutan, Anderson)
"Chants in Declaration" – 4:05
"Rising Legions of Black" – 3:24 (Rutan, Anderson)
"In Spirit (The Power of Mana)" – 4:31
"Powers That Be" – 4:30
Personnel
Edit
Ad blocker interference detected!
Wikia is a free-to-use site that makes money from advertising. We have a modified experience for viewers using ad blockers

Wikia is not accessible if you've made further modifications. Remove the custom ad blocker rule(s) and the page will load as expected.