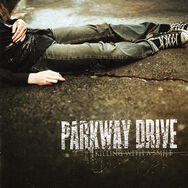 Killing with a Smile is the debut album by Australian metalcore band Parkway Drive, released in August, 2005 through Resist Records. A video was produced for "Smoke 'Em If Ya Got 'Em".
Track listing
Edit
All songs written and composed by Parkway Drive.
"Gimme A D" - 3:31
"Anasasis (Xenophontis)" - 3:31
"Pandora" - 3:58
"Romance Is Dead" - 5:18
"Guns for Show, Knives for a Pro" (contains sound clips from Die Hard 2: Die Harder) - 2:44
"Blackout" - 2:43
"Picture Perfect, Pathetic" - 2:44
"It's Hard to Speak without a Tongue" - 4:14
"Mutiny" (contains sound clips from Pirates of the Caribbean: The Curse of the Black Pearl) - 3:17
"Smoke 'Em If Ya Got 'Em" (re-recorded version) - 3:40
"A Cold Day in Hell" - 4:01
Personnel
Edit
Parkway Drive
Shaun Cash - bass
Ben Gordon - drums
Luke Kilpatrick - guitar
Jeff Ling - guitar
Winston McCall - vocals
Production
Ad blocker interference detected!
Wikia is a free-to-use site that makes money from advertising. We have a modified experience for viewers using ad blockers

Wikia is not accessible if you've made further modifications. Remove the custom ad blocker rule(s) and the page will load as expected.