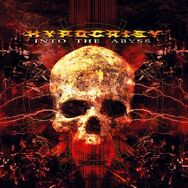 Into the Abyss is the seventh studio album by Hypocrisy. The album was released on August 22, 2000.
Track listing
Edit
"Legions Descend" - 3:53
"Blinded" - 4:18
"Resurrected" - 5:36
"Unleash the Beast" - 3:29
"Digital Prophecy" - 3:08
"Fire in the Sky" - 4:58
"Total Eclipse" - 3:09
"Unfold the Sorrow" - 4:28
"Sodomized" - 3:19
"Deathrow (No Regrets)" - 5:46
"Roswell 47 (Demo)" (Japanese bonus track)
Personnel
Edit
Hypocrisy
Production
Produced by Peter Tägtgren
Co-produced by Lars Szöke
Recorded and mixed at Abyss Studio, April 2000
Mastered by Peter In De Betou at Cutting Room, Stockholm, Sweden
Songwriting and composition
Lyrics by Peter Tägtgren
All arrangements by Hypocrisy
Orchestra on the song "Fire in the Sky" written by Peter Tägtgren
Ad blocker interference detected!
Wikia is a free-to-use site that makes money from advertising. We have a modified experience for viewers using ad blockers

Wikia is not accessible if you've made further modifications. Remove the custom ad blocker rule(s) and the page will load as expected.