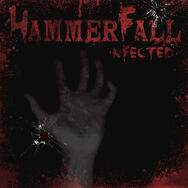 Infected is the eighth studio album by HammerFall and released on May 20, 2011 in Europe and June 7 in North America. It will be their first album to be produced by James Michael and HammerFall guitarists Oscar Dronjak and Pontus Norgren. To promote the record, the song "One More Time" was released as the first official single on April 6, 2011. On April 8, 2011 Nuclear Blast Records released a limited edition picture 7" version of the single "One More Time"; the vinyl is limited to 500 copies. The album debuted at number two on the Swedish charts but was beaten by Lady Gaga with her album Born This Way. The album's second single B.Y.H was released in 24 August 2011.
Album cover disputes
Edit
The original album cover was supposed to be grey with a black biological hazard. But after considering legal actions and negative reception they decided to change it. The new album cover was released and the Biohazard logo was replaced by a bloody hand. It will be the first album cover not to feature the bands mascot "Hector". Many fans were displeased at the removal of Hector, and had seen it as a sign that HammerFall were possibly moving away from their traditional power metal sound; however, Hector does appear on the "Send Me a Sign" single from the album and artist Samwise Didier even provides backup vocals on the main album, so this indicates that fans have not seen the last of the chivalrous mascot. Bassist Fredrik Larsson commented on a live chat on the official Nuclear Blast Records website that it is not the end of Hector and he will be featured on future records and merchandise.
Track listing
Edit
"Patient Zero" - 6:01
"B.Y.H." - 3:47
"One More Time" - 4:07
"The Outlaw" - 4:10
"Send Me a Sign" (Pokolgép cover) - 4:00
"Dia De Los Muertos" - 5:07
"I Refuse" - 4:32
"666 - The Enemy Within" - 4:28
"Immortalized" - 3:59
"Let's Get It On" - 4:05
"Redemption" - 7:02
Personnel
Edit
Ad blocker interference detected!
Wikia is a free-to-use site that makes money from advertising. We have a modified experience for viewers using ad blockers

Wikia is not accessible if you've made further modifications. Remove the custom ad blocker rule(s) and the page will load as expected.