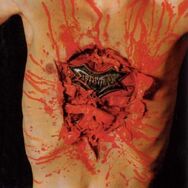 Indecent & Obscene is the second album by Dismember. The album is accompanied by two music videos for the tracks "Skinfather" and "Dreaming in Red". It's also their best selling album to this day.
Track listing
Edit
"Fleshless" - 2:58
"Skinfather" - 3:51
"Sorrowfilled" - 4:09
"Case # Obscene" - 3:38
"Souldevourer" - 3:39
"Reborn in Blasphemy" - 4:49
"Eviscerated (Bitch)" - 2:20
"9th Circle" - 4:34
"Dreaming in Red" - 5:20
"Hill 112" (Re-issue bonus track)
"Beyond The Unholy Grave" (Death cover) Re-issue bonus track)
Personnel
Edit
Dismember
Matti Kärki - vocals, lyrics
David Blomqvist - lead guitars
Robert Sennebäck - rhythm guitars
Richard Cabeza - bass
Fred Estby - drums, lyrics, mixing
Production
Peter in de Betou - mastering
Tomas Skogsberg - engineering, mixing, producer
Ad blocker interference detected!
Wikia is a free-to-use site that makes money from advertising. We have a modified experience for viewers using ad blockers

Wikia is not accessible if you've made further modifications. Remove the custom ad blocker rule(s) and the page will load as expected.