Ad blocker interference detected!
Wikia is a free-to-use site that makes money from advertising. We have a modified experience for viewers using ad blockers

Wikia is not accessible if you've made further modifications. Remove the custom ad blocker rule(s) and the page will load as expected.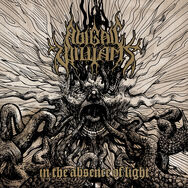 In the Absence of Light is the second album by black metal band Abigail Williams. The album was released in North America on September 28, 2010. The album moves away from the symphonic black metal sound and keyboard usage featured on In the Shadow of a Thousand Suns to a more pure black metal sound.
Track listing
Edit
"Hope the Great Betrayal" - 6:44
"Final Destiny of the Gods" - 8:16
"The Mysteries That Bind the Flesh" - 6:51
"Infernal Divide" - 4:59
"In Death Comes the Great Silence" - 6:17
"What Hells Await Me" - 4:47
"An Echo In Our Legends" - 4:59
"Malediction" - 6:58
"Fight Fire With Fire" (Metallica cover) (Bonus Track) - 4:19
Personnel
Edit