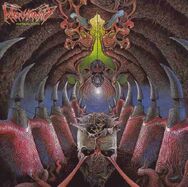 Imperial Doom is a debut album by American death metal band Monstrosity. It was released on May 26, 1992 via Nuclear Blast. The album sold 40,000 copies worldwide and received excellent ratings in the press. A triumphant tour of Europe was accomplished but, a little later, following disagreements regarding royalties, Monstrosity left the Nuclear Blast label.
Track listing
Edit
"Imperial Doom" - 4:12
"Definite Inquisition" - 4:09
"Ceremonial Void" - 3:59
"Immense Malignancy" - 3:40
"Vicious Mental Thirst" - 4:17
"Burden of Evil" - 3:22
"Horror Infinity" - 4:54
"Final Cremation" - 3:22
"Darkest Dream" - 3:09
Personnel
Edit
Monstrosity
George "Corpsegrinder" Fisher - vocals
Jason Gobel - lead & rhythm guitars
Jon Rubin - lead & rhythm guitars
Mark Van Erp - bass
Lee Harrison - drums, percussion
Additional musician
Frank Mullen - backing vocals on track "Vicious Mental Thirst"
Production
Jim Morris - producer, engineer
Markus Staiger - executive producer
Dan Seagrave - cover art
Ad blocker interference detected!
Wikia is a free-to-use site that makes money from advertising. We have a modified experience for viewers using ad blockers

Wikia is not accessible if you've made further modifications. Remove the custom ad blocker rule(s) and the page will load as expected.