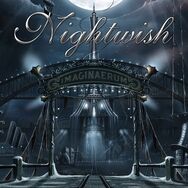 Imaginaerum is the seventh studio album by Finnish symphonic metal band Nightwish, that was released on the 30th of November 2011. The album is a concept album telling the story of an old composer on his deathbed, reminiscing of his youth. The album was produced alongside the movie of the same name, directed by Stobe Harju, who previously directed Nightwish's "The Islander" music video, and the album and the film share the same themes and general story. The first single off the album, "Storytime" was released on November 9, and quickly topped the Finnish single charts. Imaginaerum was certified 2x Platinum in Finland on the day of its release, with more than 50.000 copies sold
Track listing
Edit
"Taikatalvi" - 2:35
"Storytime" - 5:22
"Ghost River" - 5:28
"Slow, Love, Slow" - 5:50
"I Want My Tears Back" - 5:07
"Scaretale" - 7:32
"Arabesque" (instrumental) - 2:57
"Turn Loose the Mermaids" - 4:20
"Rest Calm" - 7:02
"The Crow, the Owl and the Dove" - 4:10
"Last Ride of the Day" - 4:32
"Song of Myself" - 13:37
"Imaginaerum" (instrumental) - 6:18
Personnel
Edit
Nightwish
Edit
Called The Imagineers in the booklet.
Guest musicians
Edit
Called Fellow Imagineers in the booklet.
Troy Donockley - uillean pipes (on track 5 & 13), tin whistle (on track 1, 8 & 10), vocals (on track 10 & 12), bodhran, bouzouki
Dermot Crehan - hardanger fiddle
Dirk Campbell - sorna
Guy Barker - solo trumpet
Paul Clarvis and Stephen Henderson - ethnic percussion
Pekka Kuusisto - violin
"The loved ones & the fellowship" are credited for reciting the stanzas in track 12.
Orchestra and choir
Edit
The choir group Metro Voices contributed vocals, led by choir mistress Jenny O'Grady. The Young Musicians London also contributed vocals, led by Lynda Richardson and co-ordinated by Jenny O'Grady.
The orchestra, (The London Philharmonic Orchestra), called "The Looking Glass Orchestra", was led by Thomas Bowes and conducted by James Shearman.
The orchestra and choir was arranged, orchestrated and directed by Pip Williams.