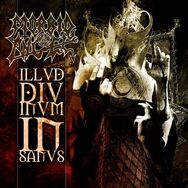 Illud Divinum Insanus is the eighth studio album by American death metal band Morbid Angel, released on June 7, 2011 by independent French record label Season of Mist.[1] It is Morbid Angel's first album since Heretic (2003), their longest gap to date between studio albums.
Recording and production
Edit
Illud Divinum Insanus marks the band's first album featuring second guitarist Destructhor, the first to feature bassist/vocalist David Vincent since 1995's Domination, as well as their first not recorded with longtime drummer Pete Sandoval, who had undergone back surgery when recording began (former Hate Eternal drummer Tim Yeung recorded the drum tracks for this album).[2]
Illud Divinum Insanus took more than five years to materialize. Work on the album began in 2006[3] and it was originally going to be released in 2007, but was pushed back several times while the band continued touring and writing new material. After four years of writing, Morbid Angel recorded the album from June 2010[2] to January 2011 at several studios, including Mana Recording Studios and Red Room Studios for the drum recording and D.O.W. Studios for the bass, guitars, and vocals. The record was mixed in Hollywood, California with Sean Beaven.
Promotion and release
Edit
The cover art for the album was unveiled on March 30, 2011. It was designed by Brazilian artist Gustavo Sazes, who commented:
"To create this cover we worked from several references, ideas, elements, and I would say a 'world' of options and paths. After a long brainstorming period and some [good and bad] ideas left behind, we came up with the concept of this organic surreal insane being; a fallen God or a weird mirror image of our own madness. It is a different Morbid Angel cover for sure, but I think that's how Morbid Angel is...Deviant and different on each new release. They never repeat themselves. They are always pushing the boundaries and setting new standards. I'm really proud of the final results and hope the fans appreciate my work, while listening to the new album!"[4]
The album's tracklist and information of various release formats were unveiled on April 5, 2011.[5] Prior to the release of the album, a single for the song "Nevermore" was made available on May 16 as a digital download and seven-inch vinyl single. The cover artwork for the single was designed by French artists Valnoir and Fursy Teyssier for Metastazis.[4] The single also contains an exclusive version of the song "Destructos vs. the Earth", remixed by Combichrist.
"Of all the remixes I've been asked to do I never expected one of the world's most notorious death metal bands to have an interest in hearing their music on the dance floor," said Combichrist mainman Andy LaPlegua. "However, 'Destructos' is one of those tracks that are so versatile that it could have been recorded as a folk song and it would still sound amazing. I'm honored to be a part of this project and am excited to see how the Morbid Angel fans react to this unusual new direction."[4]
Reception
Edit
The album received mixed reviews from critics. It also received a strong backlash from many fans unhappy with the band's attempt to add an industrial sound to several tracks. Louisville Music News labeled the album a "failed experiment" and a "joke", and described Illud Divinum Insanus as Morbid Angel's St. Anger, in reference to the Metallica album.[6] Jim Brandon on Metal Review gave it a 3.9/10 and said: "Illud Divinum Insanus is an insulting, confusing, egotistic attempt of a band to force its listeners into liking an aesthetic the polar opposite of what they've known, and it debases the views of longtime fans that refuse to accept this garbage without being labeled 'unfaithful' by the band and their shameless PR team. This record has no redeeming value, no goal in mind". Metal Injection gave it a 3/10 and negatively reviewed it.[7]
Conversely, Phil Freeman of Allmusic gave the album 4/5, saying that while "those who love the band's earliest records...are bound to see Illud Divinum Insanus' experiments with industrial...as betrayals of everything the group once stood for", "many of the songs on Illud...are as raw and savage as anything the band's ever recorded", and that the album is "a left turn by a band that's already made many of them throughout its...career". Metal Hammer gave the album a score of 9/10, describing it as "a twisted, confrontational masterpiece".
The album received praise before its release from artists including Mikael Åkerfeldt from Opeth, Anders Nyström from Katatonia and several other metal artists.[8]
Track listing
Edit
"Omni Potens" - 2:28
"Too Extreme!" - 6:13
"Existo Vulgoré" - 3:59
"Blades for Baal" - 4:52
"I Am Morbid" - 5:16
"10 More Dead" - 4:51
"Destructos vs. the Earth / Attack" - 7:15
"Nevermore" - 5:07
"Beauty Meets Beast" - 4:56
"Radikult" - 7:37
"Profundis - Mea Culpa" - 4:05
Personnel
Edit
Sean Beavan – engineer, mixing
Gunter Ford – management
Juan "Punchy" Gonzalez – engineer
Mark Prator – engineer
Erik Rutan – engineer
Gustavo Sazes – cover art, design
References
Edit
Ad blocker interference detected!
Wikia is a free-to-use site that makes money from advertising. We have a modified experience for viewers using ad blockers

Wikia is not accessible if you've made further modifications. Remove the custom ad blocker rule(s) and the page will load as expected.