Iced Earth
Album info
Release
November 1990 (Europe)
February 1991 (USA)
Recorded
Morrisound Studios, August 1990
Genre
Thrash metal
Length
44:14
Label
Century Media
Producer
Tom Morris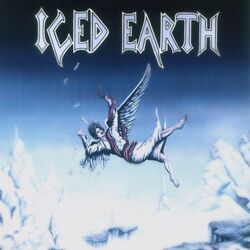 Iced Earth is the eponymous debut album by American heavy metal band Iced Earth. It was released in November 1990 internationally and February 1991 in North America. The album has three different covers (a European/Japanese cover, an American cover and a remastered cover). This album was Mike McGill's only album with Iced Earth, as well as the last for singer Gene Adam. Like the album's successor Night of the Stormrider, Iced Earth follows a more traditional thrash metal sound, rather than the power metal direction the band would follow after Matt Barlow had joined.
Iced Earth's first three albums (this album, Night of the Stormrider, and Burnt Offerings) were remastered in 2001, and each had a new cover.
Track listing
Edit
No.
Title
Lyrics
Music
Length
1.
"Iced Earth"  
Jon Schaffer
Schaffer
5:22
2.
"Written on the Walls"  
Gene Adam
Adam, Randall Shawver, Schaffer, Dave Abell
6:06
3.
"Colors"  
Schaffer
Shawver, Schaffer
4:50
4.
"Curse the Sky"  
Schaffer
Shawver, Schaffer
4:41
5.
"Life and Death"  
Schaffer
Shawver, Schaffer
6:07
6.
"Solitude"  
(instrumental)
Shawver, Schaffer
1:44
7.
"Funeral"  
(instrumental)
Shawver, Schaffer
6:15
8.
"When the Night Falls"  
Schaffer
Schaffer
8:44

Total length:

44:14
Gene Adam − lead vocals
Randall Shawver − lead guitar
Jon Schaffer − rhythm guitar, backing vocals
Dave Abell − bass
Mike McGill − drums
"Colors" is based on the 1979 film The Warriors.
Every song on this album except "Curse the Sky" was redone for 1997's Days of Purgatory. For that release, "Written on the Walls" was given new lyrics and renamed "Cast in Stone". Despite not being re-recorded, Iced Earth continued playing "Curse the Sky" in future concerts.
"The Funeral", though listed as an instrumental, includes a spoken passage, reading "Once again you have lain another loved one to rest. And as we fight the grief in our hearts, we must realize that the fate of death is inevitable. And thus we turn and find that through our trials and tribulations, death may be the only real peace of mind." The passage was cut for the Days of Purgatory release, but was retained when the album was remixed and remastered for the Dark Genesis box set in 2001.
The song "When the Night Falls" appears in the 2009 video game game Brütal Legend.
Ad blocker interference detected!
Wikia is a free-to-use site that makes money from advertising. We have a modified experience for viewers using ad blockers

Wikia is not accessible if you've made further modifications. Remove the custom ad blocker rule(s) and the page will load as expected.