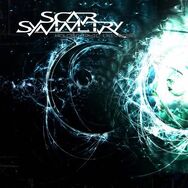 Holographic Universe is the third full-length studio album by Swedish melodic death metal band Scar Symmetry and the last album to feature long time vocalist Christian Älvestam. It was released on 20 June 2008 in Europe, and on 7 July 2008 in North America. The album peaked on the charts at 37 in Finland, and 65 in Austria. A music video for the song "Morphogenesis" premiered on September 18. The album is rumoured to be loosely based on Michael Talbot's book The Holographic Universe.
Upon its release, the sci-fi themed Holographic Universe was considered Scar Symmetry's most commercially focused album, with critics drawing comparisons with progressive bands including Dream Theater. Allmusic comments that the band "appears more serious than ever about contrasting super melodic choruses, guitar harmonies, and even intermittent synths, against aesthetic evil twins like furious death metal growls, aggressive riffing, and torrential drumming". Blabbermouth.net claims the album does not dramatically expand on previous releases, but is a "well-planned and structured album that comes across as accessible and heavy at the same time". Thirteen songs were composed for this album; however, the band decided to take off "Disintegrate The Hourglass" from the tracklisting. Holographic Universe is currently the longest running album and also has the longest recorded song by the band to this date.
Track listing
Edit
"Morphogenesis" - 3:53
"Timewave Zero" - 5:13
"Quantumleaper" - 4:09
"Artificial Sun Projection" - 3:58
"The Missing Coordinates" - 4:37
"Ghost Prototype I - Measurement Of Thought" - 4:35
"Fear Catalyst" - 5:03
"Trapezoid" - 4:17
"Prism And Gate" - 3:46
"Holographic Universe" - 9:05
"The Three-Dimensional Shadow" - 3:57
"Ghost Prototype II - Deus Ex Machina" - 6:02
Personnel
Edit
Scar Symmetry
Per Nilsson − lead guitar, rhythm guitar, keyboards
Kenneth Seil − bass guitar
Henrik Ohlsson − drums
Ad blocker interference detected!
Wikia is a free-to-use site that makes money from advertising. We have a modified experience for viewers using ad blockers

Wikia is not accessible if you've made further modifications. Remove the custom ad blocker rule(s) and the page will load as expected.