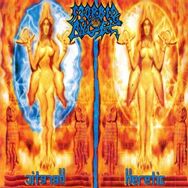 Heretic is the seventh studio album by the death metal band Morbid Angel. This would be their last under Earache Records, as the band decided not to renew its contract, and the last to feature bassist/vocalist Steve Tucker.
The album was recorded at Diet of Worms Studios by Juan Gonzalez. Heretic is the first Morbid Angel album that was not recorded at Morrisound Recording.
The second track, "Enshrined By Grace", is featured on The Texas Chainsaw Massacre soundtrack. It also had a music video which received airplay in the months following the album release.
The song "Born Again" is actually the outro guitar solo from the song "Secured Limitations" off Gateways to Annihilation.
Track listing
Edit
"Cleansed in Pestilence (Blade of Elohim)" - 4:35
"Enshrined by Grace" - 4:27
"Beneath the Hollow" - 4:20
"Curse the Flesh" - 3:35
"Praise the Strength" - 5:16
"Stricken Arise" - 4:10
"Place of Many Deaths" - 4:13
"Abyssous" - 1:30
"God of Our Own Divinity" - 6:21
"Within thy Enemy" - 3:17
"Memories of the Past" - 3:18
"Victorious March of Reign the Conqueror" - 2:37
"Drum Check" - 2:51
"Born Again" - 2:35
Personnel
Edit
Ad blocker interference detected!
Wikia is a free-to-use site that makes money from advertising. We have a modified experience for viewers using ad blockers

Wikia is not accessible if you've made further modifications. Remove the custom ad blocker rule(s) and the page will load as expected.