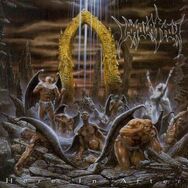 Here in After is the second album by Immolation. It was released on Metal Blade Records in 1996 after the band was dropped from Roadrunner Records. This is the last album to feature drummer Craig Smilowski; Alez Hernandez joined the band on their 1999 release, Failures for Gods.
Track listing
Edit
"Nailed to Gold" – 3:54
"Burn with Jesus" – 4:01
"Here in After" – 4:54
"I Feel Nothing" – 4:41
"Away from God" – 4:45
"Towards Earth" – 4:47
"Under the Supreme" – 4:23
"Christ's Cage" – 5:51
Personnel
Edit
Ross Dolan - Vocals, Bass
Robert Vigna - Lead guitar
Thomas Wilkinson - Rhythm guitar
Craig Smilowski - Drums
Ad blocker interference detected!
Wikia is a free-to-use site that makes money from advertising. We have a modified experience for viewers using ad blockers

Wikia is not accessible if you've made further modifications. Remove the custom ad blocker rule(s) and the page will load as expected.