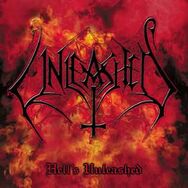 Hell's Unleashed is the sixth studio album by the Swedish death metal band, Unleashed. It was released in 2002 on Century Media Records, after a five year break from recording.
Track listing
Edit
All songs written by Unleashed
"Don't Want to Be Born" - 2:54
"Hell's Unleashed" - 2:15
"Demoneater" - 3:54
"Fly Raven Fly" - 4:15
"Mrs. Minister" - 3:01
"Joy in the Sun" - 3:05
"Demons Rejoice" - 3:07
"We'll Come for You" - 3:08
"Triggerman" - 2:34
"Dissection Leftovers" - 2:47
"Peace, Piece by Piece" - 1:58
"Burnt Alive" - 4:01
"Your Head is Mine" - 3:32
"Made in Hell" - 3:14
Personnel
Edit
Johnny Hedlund - vocals, bass
Fredrik Folkare - guitar
Tomas Olsson - guitar
Anders Schultz - drums
Ad blocker interference detected!
Wikia is a free-to-use site that makes money from advertising. We have a modified experience for viewers using ad blockers

Wikia is not accessible if you've made further modifications. Remove the custom ad blocker rule(s) and the page will load as expected.