Background
Edit
The Hard 'n Heavy line was a series of videotapes released from the late 1980s through the 1990s containing interviews, taped live performances, and videos of various heavy metal artists.
There were also brief animated clips depicting several metalhead characters, usually engaging in some sexual and/or violent act in between band footage. Similarly, many of the metal videos were uncensored or banned from various other music outlets, along without censorship of cursewords that any band member might say during an interview, which all of these tapes came with a warning label on them in regards to these matters.
The Thrash Metal Speed Special
Edit
This tape in particular condensed several metal bands, performances, interviews, and the usual cartoons from several past Hard 'n Heavy videos, just focusing on the speed or thrash metal aspect this time around. The video was released in 1990 from Directors International Video.
The following artists are on this tape.
All bands have interviews and video clips (being either filmed live or showing an already filmed and released video) except for Megadeth (having their "Peace Sells...But Who's Buying?" video clip only) and Danzig (his uncensored "Mother" video only).
Uncensored videos included Danzig's "Mother" and Black Sabbath's "Trashed".
The label on the videotape reads as to being the "Thrash and Speed Metal Special", yet on the side it reads "Thrash Metal Speed Special".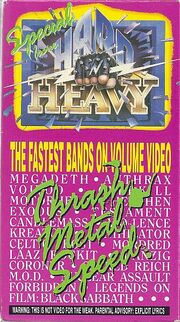 Ad blocker interference detected!
Wikia is a free-to-use site that makes money from advertising. We have a modified experience for viewers using ad blockers

Wikia is not accessible if you've made further modifications. Remove the custom ad blocker rule(s) and the page will load as expected.