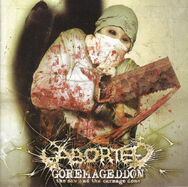 Goremageddon: The Saw and the Carnage Done is the third full length album by Belgian death metal band Aborted. It was released in 2003. All but the last track feature samples of a medical and/or horror note. The title of the album and the title track are references to the title of a song by Neil Young, "The Needle and the Damage Done".
Some versions have a bonus cover of the Carcass song "Carnal Forge".
Track listing
Edit
"Meticulous Invagination" - 3:02
"Parasitic Flesh Resection" - 2:10
"The Saw and the Carnage Done" - 4:51
"Ornaments of Derision" - 4:54
"Sanguine Verses (...of Extirpation)" - 2:58
"Charted Carnal Effigy" - 3:31
"Clinical Colostomy" - 3:29
"Medical Deviance" - 3:11
"Sea of Cartilage" - 3:02
"Nemesis" - 2:59
"Carnal Forge" (Carcass cover, 2009 bonus track) - 4:03
"Gestated Rabidity" (2009 bonus track) - 4:13
"Voracious Haemoglobinic Syndrome" (2009 bonus track) - 4:06
Personnel
Edit
Sven "Svencho" de Caluwé – vocals
Bart Vergaert – guitars
Thijs De Cloedt – guitars
Frederik Vanmassenhove – bass
Dirk Verbeuren – session drummer
Ad blocker interference detected!
Wikia is a free-to-use site that makes money from advertising. We have a modified experience for viewers using ad blockers

Wikia is not accessible if you've made further modifications. Remove the custom ad blocker rule(s) and the page will load as expected.