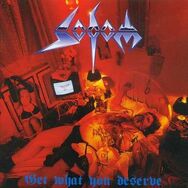 Get What You Deserve is the sixth album by the German thrash metal band Sodom. On this album Sodom incorporated a more punkish approach to their thrash metal style. The original cover featured an overweight thirtysomething male lying in the midst of a vandalized whorehouse, mutilated beyond recognition. A young prostitute clad in bra and panties, wearing a Jason Voorhees hockey mask, can be seen looking on. The reissued cover features the members of the band standing side by side.
Track listing
Edit
"Get What You Deserve" – 3:44
"Jabba the Hut" – 2:29
"Jesus Screamer" – 1:42
"Delight in Slaying" – 2:40
"Die Stumme Ursel" – 3:47
"Freaks of Nature" – 2:07
"Eat Me" – 3:22
"Unbury the Hatchet" – 2:28
"Into Perdition" – 2:45
"Sodomized" – 2:43
"Fellows in Misery" – 2:18
"Tribute to Moby Dick" (Instrumental) – 4:21
"Silence is Consent" – 2:30
"Erwachet" – 2:17
"Gomorrah" – 2:19
"Angel Dust" (Venom cover) – 2:39
Personnel
Edit
Ad blocker interference detected!
Wikia is a free-to-use site that makes money from advertising. We have a modified experience for viewers using ad blockers

Wikia is not accessible if you've made further modifications. Remove the custom ad blocker rule(s) and the page will load as expected.