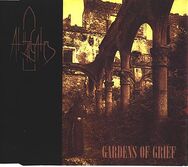 Gardens of Grief is an EP by Swedish melodic death metal band At the Gates. This EP was later re-released as a split CD with Grotesque's In the Embrace of Evil album.
On the inlay of the rerelease you can find this line: "Tomas wants to dedicate the lyrics in 'At The Gates' to the memory of Per Ohlin ..R.I.P..." He was the vocalist of Mayhem and Morbid who committed suicide in April, 1991.
Background information
Edit
When the tracks were recorded at Sunlight Studio, At the Gates had been playing together for "roughly" four months. Björler accredits this period as the time when At the Gates developed their musicianship, songwriting, and ability to work together. In comparison to tracks which featured on later recordings, Björler believes the songs are less structured. Due to a modest studio budget combined with inexperience, the EP's production "suffered a lot". However, Björler has described Gardens of Grief as "an ok debut EP".
The opening lyrics to "All Life Ends" is nearly word for word identical to the opening lines of the monologue at the beginning of Mad Max 2: The Road Warrior.
Track listing
Edit
"Souls of the Evil Departed" - 3:34
"At the Gates" - 5:22
"All Life Ends" - 6:10
"City of Screaming Statues" - 4:46
Personnel
Edit
Ad blocker interference detected!
Wikia is a free-to-use site that makes money from advertising. We have a modified experience for viewers using ad blockers

Wikia is not accessible if you've made further modifications. Remove the custom ad blocker rule(s) and the page will load as expected.