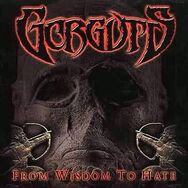 From Wisdom to Hate is the fourth album by Gorguts. The musical style can be considered a compromise between the previous album Obscura and the older albums Considered Dead and The Erosion of Sanity.
War on Music reissued the album on vinyl in 2011.
Track listing
Edit
"Inverted" - 4:23
"Behave Through Mythos" - 5:10
"From Wisdom to Hate" - 5:06
"The Quest for Equilibrium" - 6:47
"Unearthing the Past" - 5:02
"Elusive Treasures" - 6:19
"Das Martyrium Des" - 4:33
"Testimonial Ruins" - 3:19
Personnel
Edit
Luc Lemay - Guitars, Vocals
Daniel Mongrain - Lead Guitar
Steve Cloutier - Bass
Steve MacDonald - Drums
Ad blocker interference detected!
Wikia is a free-to-use site that makes money from advertising. We have a modified experience for viewers using ad blockers

Wikia is not accessible if you've made further modifications. Remove the custom ad blocker rule(s) and the page will load as expected.