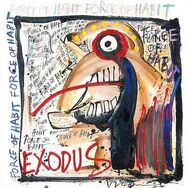 Force of Habit is the fifth album by the thrash metal band Exodus. The songs are a departure from the thrash metal style for Exodus, slower and more experimental. Many of the song titles are figures of speech.
Force of Habit is Exodus's last album with breakup to 1993 and 2003.
This is Exodus's last album to feature John Tempesta on drums and is also their only album to feature Mike Butler on bass.
It is the band's only release without the jagged edged "Exodus" logo that had appeared on all of the band's previous and subsequent releases.
It was re-released in 2008 in a limited edition mini-album packaging to resemble the original vinyl release, including the inner sleeve. This version was remastered and includes the bonus tracks from the Japanese release.
Track listing
Edit
"Thorn in My Side" - 4:06
"Me, Myself & I" - 5:03
"Force of Habit" - 4:19
"Bitch" - 2:48
"Fuel for the Fire" - 6:04
"One Foot in the Grave" - 5:19
"Count Your Blessings" - 7:31
"Climb Before the Fall" - 5:38
"Architect of Pain" - 11:02
"When It Rains It Pours" - 4:20
"Good Day to Die" - 4:48
"Pump It Up" - 3:10
"Feeding Time at the Zoo" - 4:33
"Crawl Before You Walk (2008 Re-Issue Bonus Track)" - 3:59
"Telepathic (2008 Re-Issue Bonus Track)" - 4:48
Personnel
Edit
Testament
Production
Recorded at Battery Studios, London, UK
Produced and engineered by Chris Tsangarides
Assistant engineered by Chris Marshall and Sarah Bedingham
Mixed by Steve Thompson and Michael Barbiero at Riversound, New York, USA
Additional recording and remixing by Marc Senesac at The Plant, Sausalito, California, USA
Mastered by George Marino at Sterling Sound, New York, USA
Artwork by Ralph Steadman
Ad blocker interference detected!
Wikia is a free-to-use site that makes money from advertising. We have a modified experience for viewers using ad blockers

Wikia is not accessible if you've made further modifications. Remove the custom ad blocker rule(s) and the page will load as expected.