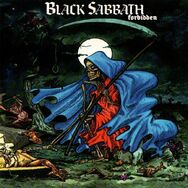 Forbidden is the eighteenth studio album by British heavy metal band Black Sabbath, released in July 1995. This also saw the reunion of Black Sabbath's Tyr-era lineup from 1990, with the return of Neil Murray and Cozy Powell. The album was panned by critics and fans alike. This is the band's most recent studio album released under the Black Sabbath name. It was also the last album to feature Tony Martin on vocals. It was last album with broke up to 2006 and 2011.
Album information
Edit
The album's opening track, "The Illusion of Power", features Ice-T of the band Body Count in the bridge, delivering a spoken word part. Body Count band member Ernie C also produced, recorded and mixed the album.
Track listing
Edit
"The Illusion of Power" (featuring Ice-T) - 4:51
"Get a Grip" - 3:58
"Can't Get Close Enough" - 4:27
"Shaking Off the Chains" - 4:02
"I Won't Cry for You" - 4:47
"Guilty as Hell" - 3:27
"Sick and Tired" - 3:29
"Rusty Angels" - 5:00
"Forbidden" - 3:47
"Kiss of Death" - 6:06
Personnel
Edit
Additional personnel
Edit
Ice-T – vocals on "The Illusion of Power"
Ad blocker interference detected!
Wikia is a free-to-use site that makes money from advertising. We have a modified experience for viewers using ad blockers

Wikia is not accessible if you've made further modifications. Remove the custom ad blocker rule(s) and the page will load as expected.