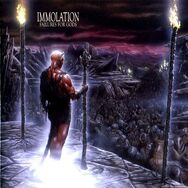 Failures for Gods is the third album by Immolation. It was released on Metal Blade Records in 1999.
Track listing
Edit
All Songs Written By Immolation.
"Once Ordained" – 5:21
"No Jesus, No Beast" – 4:41
"Failures for Gods" – 6:25
"Unsaved" – 4:36
"God Made Filth" – 3:57
"Stench of High Heaven" – 4:23
"Your Angel Died" – 5:25
"The Devil I Know" – 5:24
Personnel
Edit
Immolation
Ross Dolan - Bass, Vocals
Thomas Wilkinson - Lead & Rhythm Guitars
Robert Vigna - Lead & Rhythm Guitars
Alex Hernandez - Drums
Production
Produced By Immolation & Paul Orofino
Engineered By Paul Orofino
Mastered By Brad Vance
Ad blocker interference detected!
Wikia is a free-to-use site that makes money from advertising. We have a modified experience for viewers using ad blockers

Wikia is not accessible if you've made further modifications. Remove the custom ad blocker rule(s) and the page will load as expected.