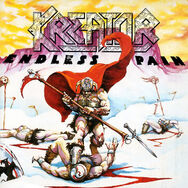 Endless Pain is the debut album of the thrash metal band Kreator, released in 1985 by Noise Records.
On this album both Petrozza and Reil share vocal duties. This album has been known to be viewed as a pivotal album to black metal bands that enjoy dabbling in thrash metal elements, ultimately creating a thrash-influenced black metal sound.
The first vinyl pressing of 5,000 copies came on red vinyl. Later pressings were on normal black vinyl.
Track listing
Edit
"Endless Pain" - 3:32
"Total Death" - 3:28
"Storm of the Beast" - 5:01
"Tormentor" - 2:56
"Son of Evil" - 4:16
"Flag of Hate" - 4:42
"Cry War" - 3:45
"Bone Breaker" - 2:58
"Living In Fear" - 3:12
"Dying Victims" - 4:51
"Armies of Hell*" (demo) - 5:17
"Tormentor*" (demo) - 2:56
"Cry War*" (demo) - 4:22
"Bone Breaker*" (demo) - 4:01
Tracks 11-14, marked with an asterisk, are bonus tracks on the 2000 reissue CD from the End of the World demo, which was released when the band was still known as Tormentor. Track #1 from the demo (Intro) is not included.
The 1989 CD reissue from Noise Records included the two original tracks from the Flag of Hate EP, "Take Their Lives" and "Awakening of the Gods", as well as the replacing "Flag of Hate" with the re-recorded version from that EP.
Personnel
Edit
Kreator
Mille Petrozza - guitar, vocals in tracks 2, 4, 6, 8, 10
Jürgen Reil - drums, vocals in tracks 1, 3, 5, 7, 9
Rob Fioretti - bass guitar
Production
Horst Müller - producer
Karl-Ulrich Walterbach - executive producer
Ad blocker interference detected!
Wikia is a free-to-use site that makes money from advertising. We have a modified experience for viewers using ad blockers

Wikia is not accessible if you've made further modifications. Remove the custom ad blocker rule(s) and the page will load as expected.