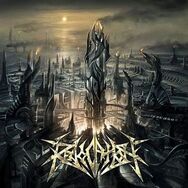 Empire of the Obscene is the debut studio album by an American death metal band Revocation, it was released in February 2008.
Track listing
Edit
Unattained - 3:41
Tail From the Crypt - 4:40
Exhumed Identity - 6:52
Fields of Predation - 5:59
Alliance and Tyranny - 4:59
Suffer These Wounds - 6:11
Summon the Spawn - 5:39
None Shall Be Spared (All Shall Be Speared) - 5:44
Stillness - 2:04
Age of Iniquity - 4:59
Empire of the Obscene - 4:59
Personnel
Edit
David Davidson - guitar, vocals
Anthony Buda - bass, backing vocals
Phil Dubois-Coyne - drums
Ad blocker interference detected!
Wikia is a free-to-use site that makes money from advertising. We have a modified experience for viewers using ad blockers

Wikia is not accessible if you've made further modifications. Remove the custom ad blocker rule(s) and the page will load as expected.