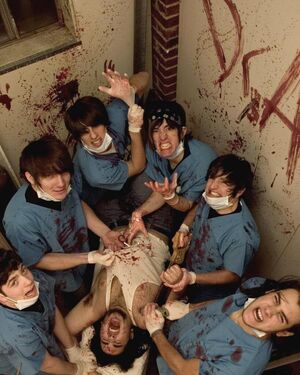 &nbsp
Dr. Acula is an American deathcore band from New York that formed in 2005. Not much known about the band, but they are popular among a few fans. They have released two studio albums, and 4 other releases. Recently, on July 27, 2010, Dr. Acula has signed to Victory Records and are currently recording their third studio album, to be released February 15, 2011.
Band Members
Edit
Current Members:
Edit
Rob Acula - Bass
Pete - Vocals, Keyboard
Tyler Guida - Vocals
Drew - Drums
Joey - Keyboard
Lou Dawg - Guitar
Bill - Guitar
Former Members:
Edit
Billy - Drums
Bert Vegas - Vocals
Mike - Drums
Discography
Edit
Studio Albums
EPs
Compilations
Ad blocker interference detected!
Wikia is a free-to-use site that makes money from advertising. We have a modified experience for viewers using ad blockers

Wikia is not accessible if you've made further modifications. Remove the custom ad blocker rule(s) and the page will load as expected.