Doomsday News (subtitle: The New Generation of Heavy Metal) is a compilation album showcasing several heavy metal bands from Noise International Inc. Genres include power metal (Scanner, Rage), thrash metal (Tankard, Helloween, Deathrow), industrial metal (Voivod), and death metal (Coroner, Kreator).
The album was released in 1988 by Noise International Inc.
Track list/bands
Edit
The majority of the album's contents had been released on artists' respective albums at the time. Some were unreleased though (Coroner, Vendetta), Kreator's song was only available on a limited edition picture disc, and Voivod's song was also only available on the MC version of their Killing Technology album, as well as a limited edition picture disc, although it had also been included on later releases of the album since then as well.
The liner notes includes most lyrics, band members/instruments played, where the songs were recorded, album they were available on, and the acting producer. Also, the members of Coroner's real names of Roland Broder, Thomas Vetterli, and Markus Edelmann were used for the first time ever, as they had gone by (respectively) their stage names of Ron Royce, Tommy T. Baron, and Marquis Marky on all of their releases.
This was the first of a series of Doomsday News albums, as Doomsday News 2 was also released, along with Doomsday News III Thrashing East Live.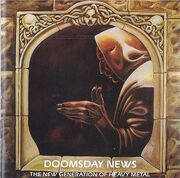 Ad blocker interference detected!
Wikia is a free-to-use site that makes money from advertising. We have a modified experience for viewers using ad blockers

Wikia is not accessible if you've made further modifications. Remove the custom ad blocker rule(s) and the page will load as expected.