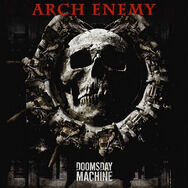 Doomsday Machine is the sixth studio album by Swedish death metal band Arch Enemy, produced by Rickard Bengtsson and mixed by Andy Sneap. It is the third album to feature the vocals of Angela Gossow. The album had some commercial success reaching number 87 on the Billboard 200 selling 12,000 copies.
Track listing
Edit
"Enter the Machine" - 2:02
"Taking Back My Soul" - 4:35
"Nemesis" - 4:12
"My Apocalypse" - 5:25
"Carry the Cross" - 4:12
"I Am Legend/Out for Blood" - 4:58
"Skeleton Dance" - 4:33
"Hybrids of Steel" - 3:49
"Mechanic God Creation" - 5:59
"Machtkampf" - 4:16
"Slaves of Yesterday" - 5:03
Personnel
Edit
Personnel credits adapted from Doomsday Machine album liner notes.
Arch Enemy
Production
Rickard Bengtsson − producer, additional arrangements
Andy Sneap − mixing, mastering
Ola Strömberg – assistant engineer, keyboards
Gus G. − guest lead on "Taking Back My Soul"
Apollo Papathanasio − backing vocals
Joachim Luetke − artwork, artwork concept, layout
Paul Harries − band picture
Ad blocker interference detected!
Wikia is a free-to-use site that makes money from advertising. We have a modified experience for viewers using ad blockers

Wikia is not accessible if you've made further modifications. Remove the custom ad blocker rule(s) and the page will load as expected.