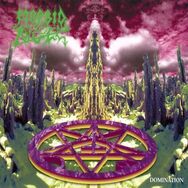 Domination is the fourth full-length studio album by death metal band Morbid Angel, released in 1995. This was Morbid Angel's last album under the label Giant Records before the company filed for bankruptcy. The band then re-signed with their former label, Earache Records.
The original cover is shown here. Today, a different cover exists with the picture shown at a different angle. Initial copies came in a green jewelcase. There was also a limited edition "Slime Pack" planned, which was never released after several packs leaked before shipping and the slime-substance was found to be toxic.
A music video was produced for the song "Where the Slime Live".
David Vincent left the band soon after the release of Domination and was replaced by Steve Tucker. Vincent returned to the band in 2004 but it would not be until the release of Illud Divinum Insanus in 2011 that he would appear on new Morbid Angel recordings.
Track listing
Edit
"Dominate" - 2:39
"Where the Slime Live" - 5:26
"Eyes to See, Ears to Hear" - 3:52
"Melting" - 1:20
"Nothing But Fear" - 4:31
"Dawn of the Angry" - 4:39
"This Means War" - 3:12
"Caesar's Palace" - 6:20
"Dreaming" Azagthoth 2:17
"Inquisition (Burn with Me)" - 4:33
"Hatework" - 5:47
"Sworn to the Black" (Laibach remix) (Japanese bonus track) - 4:16
"God of Emptiness" (Laibach remix) (Japanese bonus track) - 5:37
Personnel
Edit
Morbid Angel
Production
Morbid Angel – arrangement, production
Bill Kennedy – production, engineering, mixing
Mark Prator – assistant engineering
Eric Cadieux – programming, digital editing
Alan Yoshida – mastering
Ad blocker interference detected!
Wikia is a free-to-use site that makes money from advertising. We have a modified experience for viewers using ad blockers

Wikia is not accessible if you've made further modifications. Remove the custom ad blocker rule(s) and the page will load as expected.