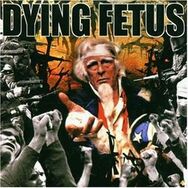 Destroy the Opposition is the third album by American death metal band Dying Fetus. It was produced by the band and Steve Carr. This album marks a change in Dying Fetus's direction, with political themes becoming dominant, which has continued in all of their subsequent albums.
Albert Mudrian, in his 2004 book Choosing Death, cited Destroy the Opposition cited as one of the most important albums released in 2000.
Dying Fetus formed Blunt Force Records in 2000 as well.
Track listing
Edit
"Praise the Lord (Opium of the Masses)" - 5:31
"Destroy the Opposition" - 5:11
"Born in Sodom" - 4:46
"Epidemic of Hate" - 4:42
"Pissing in the Mainstream" - 1:57
"In Times of War" - 3:08
"For Us or Against Us" - 5:34
"Justifiable Homicide" - 5:35
"Reduced To Slavery" (only available on Japanese Import) - 3:27
Personnel
Edit
John Gallagher - guitars/vocals
Jason Netherton - bass guitar/vocals
Sparky Voyles - guitars
Kevin Talley - drums
Ad blocker interference detected!
Wikia is a free-to-use site that makes money from advertising. We have a modified experience for viewers using ad blockers

Wikia is not accessible if you've made further modifications. Remove the custom ad blocker rule(s) and the page will load as expected.