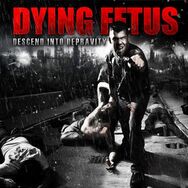 Descend into Depravity is the sixth studio album by Dying Fetus, released on September 15, 2009. On June 4, the album's release date and title were revealed, while on July 15, the cover and track listing were released.
The line up for this album consisted of only three band members, With the dismisal of Duane Timlin in 2007, Trey Williams took his place as drummer. John Gallagher and Sean Beasely were left to tackle the lyrics alone as Mike Kimball had left as well.
Track listing
Edit
"Your Treachery Will Die with You" - 3:34
"Shepherd's Commandment" - 4:27
"Hopeless Insurrection" - 4:31
"Conceived into Enslavement" - 4:23
"Atrocious by Nature" - 3:50
"Descend into Depravity" - 5:01
"At What Expense" - 4:36
"Ethos of Coercion" - 3:15
Personnel
Edit
John Gallagher - Vocals, Guitar
Sean Beasley - Vocals, Bass
Trey Williams - Drums
Ad blocker interference detected!
Wikia is a free-to-use site that makes money from advertising. We have a modified experience for viewers using ad blockers

Wikia is not accessible if you've made further modifications. Remove the custom ad blocker rule(s) and the page will load as expected.