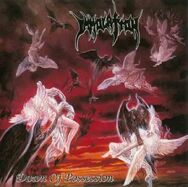 Dawn of Possession is the debut album by Immolation. It was released on July 19, 1991, it was their first and last album released on Roadrunner Records. It is considered a classic to the death metal genre due to its complex, yet brutal, riffing. Re-issued and Re-mastered by Metal Mind Productions as a limited edition digipak, on April 24th 2006, with bonus videos.
Track listing
Edit
"Into Everlasting Fire" – 5:10
"Despondent Souls" – 4:13
"Dawn of Possession" – 3:04
"Those Left Behind" – 5:13
"Internal Decadence" – 2:59
"No Forgiveness (Without Bloodshed)" – 4:11
"Burial Ground" – 3:36
"After My Prayers" – 5:51
"Fall in Disease" – 3:47
"Immolation" – 4:05
Personnel
Edit
Immolation
Ross Dolan - vocals, bass
Robert Vigna - guitars
Tom Wilkinson - guitars
Craig Smilowski - drums
Production
Andreas Marschall - artwork (cover illustration)
Carole Segal - photography
Harris Johns - engineering, mixing, producer
Patricia Mooney - art direction
Mark Mastro - logo
Renato Gallina - artwork (original logo concept)
Ad blocker interference detected!
Wikia is a free-to-use site that makes money from advertising. We have a modified experience for viewers using ad blockers

Wikia is not accessible if you've made further modifications. Remove the custom ad blocker rule(s) and the page will load as expected.