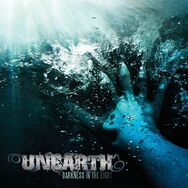 Darkness In the Light is the fifth studio album by American metalcore band Unearth. The album was released on July 5, 2011, in Europe through Metal Blade Records. The album features Justin Foley of Killswitch Engage on drums, on all tracks.
Album information
Edit
"Darkness In The Light", the new album from Massachusetts metal band Unearth, can be streamed in its entirety at AltPress.com. Due on July 5 via Metal Blade Records, the CD was recorded at Zing Studios in Westfield, Massachusetts with producer (and Killswitch Engage guitarist) Adam Dutkiewicz. The effort was mixed by Mark Lewis (The Black Dahlia Murder, Whitechapel, Devildriver, Trivium) from Audiohammer Studios in Sanford, Florida.
Track listing
Edit
"Watch It Burn" - 4:06
"Ruination of the Lost" - 3:35
"Shadows In the Light" - 3:45
"Eyes of Black" - 3:53
"Last Wish" - 3:06
"Arise the War Cry" - 3:55
"Equinox" - 2:58
"Coming of the Dark" - 3:07
"The Fallen" - 3:35
"Overcome" - 3:11
"Disillusion" - 3:37
Personnel
Edit
Unearth
John Maggard – bass, backing vocals
Justin Foley – drums
Trevor Phipps – vocals
Buz McGrath – lead guitar
Ken Susi – rhythm guitar, clean vocals
Production
Ad blocker interference detected!
Wikia is a free-to-use site that makes money from advertising. We have a modified experience for viewers using ad blockers

Wikia is not accessible if you've made further modifications. Remove the custom ad blocker rule(s) and the page will load as expected.