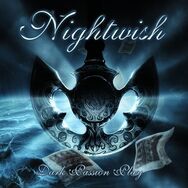 Dark Passion Play is the sixth studio album by Finnish symphonic metal band Nightwish, released on 26 September, 2007 in Finland, 28 September in Europe and 2 October 2007 in the United States. It was the first Nightwish album with the band's current lead singer, Anette Olzon, and the first album not featuring former vocalist Tarja Turunen, who was fired in 2005. Lead songwriter Tuomas Holopainen has referred to it as the "album that saved his life".
The first single, "Eva", was leaked on the Internet six days before its official release, prompting the band to release the single earlier to boost downloads. Several other versions of the song were posted on YouTube and torrent sites a month later; the entire album with record label voiceovers had been leaked on the Internet by 2 August. The full album (without voiceovers) was leaked on 21 September 2007, as a result of several stores in Mexico selling the retail album much prior to the worldwide release date.
During the first week of its release, the album entered the European charts as number one in 6 different countries, selling over 100,000 copies in Finland alone, where was certified with 3 Platinum Discs. In February 2008, the album received its 4th Platinum Disc in Finland, after having sold over 130,000 copies Worldwide, Dark Passion Play has sold over 2 million copies since its release, being Nightwish's most successful album to date.
Track listing
Edit
"The Poet and the Pendulum" - 13:54
"Bye Bye Beautiful" - 4:14
"Amaranth" - 3:51
"Cadence of Her Last Breath" - 4:14
"Master Passion Greed" (sung by Marco Hietala) - 6:02
"Eva" - 4:24
"Sahara" - 5:47
"Whoever Brings the Night" - 4:17
"For the Heart I Once Had" - 3:55
"The Islander" (lead vocals by Marco Hietala) - 5:05
"Last of the Wilds" (instrumental) - 5:40
"7 Days to the Wolves" - 7:03
"Meadows of Heaven" - 7:10
Personnel
Edit
Nightwish

Edit

Main crew

Edit

Tero Kinnunen- sound engineer
Mikko Karmila - mixing
Mika Jussila - mastering engineer
James Shearman - choir conducting
Pip Williams - orchestral arrangements

Guest musicians

Edit

London Philharmonic Orchestra - orchestral parts
Metro Voices - choir
Guy Elliott - lead treble (on track 1)
Tom Williams – second treble (on track 1)
Troy Donockley - bodhran, uilleann pipes, low whistle and tin whistle (on track 10, 11 and 13)
Nollaig Casey - violin (on track 11)
Zachary LaPorta - theremin (on tracks 1 and 11)
Senni Eskelinen - electric kantele (on track 11)
Ad blocker interference detected!
Wikia is a free-to-use site that makes money from advertising. We have a modified experience for viewers using ad blockers

Wikia is not accessible if you've made further modifications. Remove the custom ad blocker rule(s) and the page will load as expected.