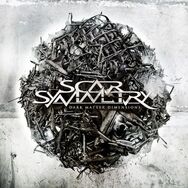 Dark Matter Dimensions is the fourth full-length studio album by Swedish melodic death metal band Scar Symmetry. It is the first album to feature new vocalists Roberth Karlsson and Lars Palmqvist after Christian Älvestam's departure. It was released on October 2, 2009 in Europe, and on October 20, 2009 in North America. According to drummer and lyricist Henrik Ohlsson, the title Dark Matter Dimensions refers to the "appreciation and acknowledgement of the unseen worlds and dimensions, because without the existence of these unseen forces our physical universe would never be able to exist".
Critics noted that while newcomers Karlsson and Palmqvist's vocals could not quite match the ability of Älvestam's, they did not detract from the album's quality; with BBC Music commenting that they had the "ability to overlap", adding "further depth to the complex, aggressive melodies that Scar Symmetry fans have come to expect". Music videos were created for "Noumenon and Phenomenon", "Ascension Chamber" and "The Iconoclast".
Track listing
Edit
All music written by Jonas Kjellgren & Per Nilsson and arranged by Scar Symmetry
All lyrics written by Henrik Ohlsson
"The Iconoclast" - 5:07
"The Consciousness Eaters" - 4:42
"Noumenon and Phenomenon" - 4:13
"Ascension Chamber" - 3:48
"Mechanical Soul Cybernetics" - 3:27
"Nonhuman Era" - 4:45
"Dark Matter Dimensions" - 4:12
"Sculptor Void" - 5:23
"A Parenthesis in Eternity" - 4:43
"Frequencyshifter" - 3:15
"Radiant Strain" - 4:15
"Pariah" (limited-edition digipak bonus track [6]) - 5:22
"The Consciousness Eaters (Edit Version)" (Japanese bonus track) - 3:58
Personnel
Edit
Scar Symmetry
Ad blocker interference detected!
Wikia is a free-to-use site that makes money from advertising. We have a modified experience for viewers using ad blockers

Wikia is not accessible if you've made further modifications. Remove the custom ad blocker rule(s) and the page will load as expected.