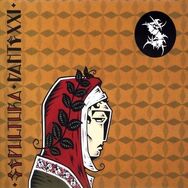 Dante XXI is the ninth studio album by Brazilian heavy metal band Sepultura, released in March 14, 2006 through SPV Records. It is a concept album based on the three sections of Dante Alighieri's The Divine Comedy; Inferno (hell), Purgatorio (purgatory) and Paradiso (paradise).
Track listing
Edit
"Dark Wood of Error" - 2:18
"Convicted In Life" - 3:09
"City of Dis" - 3:27
"False" - 3:34
"Fighting On" - 4:29
"Ostia" - 3:07
"Buried Words" - 2:35
"Nuclear Seven" - 3:44
"Repeating the Horror" - 3:12
"Crown and Miter" - 2:11
"Still Flame" - 4:51
Personnel
Edit
Sepultura
Productions
Luiz Linhares Garcia - horns
Samuel Hamzem - horns
Andre Moraes - percussion, piano, programming, sitar, fender rhodes, horns arrangements, strings arrangements, introduction, mini moog, producer,
Fabio Presgrave - cello
Bia Rebello - cello
Guilherme Cersosimo - crew
Estevam Romera - crew
Rogerinho Motorhead - crew
Pedro Verdone - crew
Stephan Doitschinoff - paintings
Mauricio Cersosimo - pre-production
Susanne Kammer - design
Fragata - assistant
Helio Leite - assistant
Stanley Soares - producer, engineer, mixing
Ad blocker interference detected!
Wikia is a free-to-use site that makes money from advertising. We have a modified experience for viewers using ad blockers

Wikia is not accessible if you've made further modifications. Remove the custom ad blocker rule(s) and the page will load as expected.