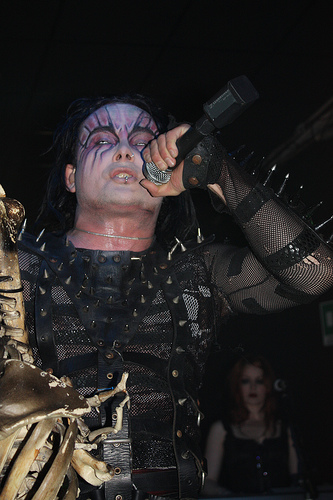 Dani Filth (born Daniel Lloyd Davey, born 25 July 1973) is the lyricist, vocalist and founding member of the metal band Cradle of Filth.
Name: Dani Filth Birthday: 25/07/73 Married: Yes, to Toni. Children: One Daughter, Luna Scarlett, thirteen, going on twenty. Place of residence: Midian, England
Personal life
Filth was born to Susan Janet Moore and Lawrence John Davey in Hertford and is the oldest child of four. Dani has two sisters, Amanda (b. 1975) and Rachel (b. 1978), and a brother, Philip (b. 1981).He married his girlfriend,Toni, on 31 October 2005 in Ipswich. One Daughter, Luna Scarlett, thirteen, going on twenty..

Career
Dani Filth's present and primary band is Cradle of Filth. His earliest bands were Carnival Fruitcake, The Lemon Grove Kids, PDA and Feast on Excrement,[1] and he named Judas Priest, Venom, Emperor, Destruction, Slayer, Iron Maiden, Sabbat, Misfits, Paradise Lost and Tim Burton's The Nightmare Before Christmas among his major influences.[1] At the age of eighteen, Filth took up a job at a Chinese restaurant. He later chose his career in music over an internship at a newspaper, although his "Dani's Inferno" column ran for two years in Metal Hammer during the late 1990s. He has co-written and released The Gospel of Filth with Gavin Baddeley.The book, which Dani describes as an "occult study", features contributions from Clive Barker, Christopher Lee and Ingrid Pierson. He had been accused many times of being a Satanist, but has denounced such rumours, claiming instead to being "more of a Luciferian." Away from Cradle, Dani appeared on the Roadrunner United CD in 2005 (contributing vocals to "Dawn of a Golden Age"), and his high profile has also led to a handful of film and television roles. In 2003 he provided the voice of the eponymous main character in the feature-length animation Dominator. He was ranked 95 in the Hit Parader's Top 100 Metal Vocalist of All Time. Filth recorded a song with Claudio Simonetti and Simonetti's band Daemonia, the song "(She's) The Mother of Tears (Mater Lacrimarum)", is on the soundtrack of the film The Mother of Tears.
In 2000 he appeared in the movie Cradle of Fear as The Man, a deranged psychopath taking revenge on his father's persecutors. The film also starred David McEwen, Edmund Dehn, Emily Booth, Eileen Daly, Rebecca Eden and Emma Rice. An homage to the cult Amicus anthology Asylum, Cradle of Fear unfolds four stories all linked by the thread of an incarcerated child killer wreaking vengeance on those responsible for his imprisonment. The movie's tagline on some posters was, "It's not if they die... It's how..." [edit]Discography
Cradle of Filth discography
The Principle of Evil Made Flesh (1994)
Dusk... and Her Embrace (1996)
Cruelty and the Beast (1998)
Midian (2000)
Damnation and a Day (2003)
Nymphetamine (2004)
Thornography (2006)
Godspeed on the Devil's Thunder (2008)
Darkly, Darkly, Venus Aversa (2010)
Midnight in the Labyrinth (2012)