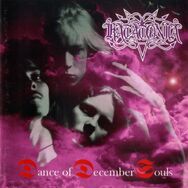 Dance of December Souls is the first full-length album by Katatonia.
The album was released on CD in 1993 by No Fashion Records and LP by Helion Records, released in the USA in 1999 by Century Black. In 2004, record label Black Lodge reissued the album with all new artwork, but the band has stated on its website that it does not support this release for personal reasons. In 2007 the album was reissued once again, this time under Peaceville UK with a blue version of the original cover and all five songs from the Jhva Elohim Meth EP appended as bonus tracks. In 2010 Svart Records released a double vinyl version, which also included all songs from the EP.
Track listing
Edit
"Seven Dreaming Souls (Intro)" - 0:45
"Gateways of Bereavement" - 8:15
"In Silence Enshrined" - 6:30
"Without God" - 6:51
"Elohim Meth" - 1:42
"Velvet Thorns (of Drynwhyl)" - 13:56
"Tomb of Insomnia" - 13:09
"Dancing December" - 2:18
Personnel
Edit
Katatonia
Guest
Ad blocker interference detected!
Wikia is a free-to-use site that makes money from advertising. We have a modified experience for viewers using ad blockers

Wikia is not accessible if you've made further modifications. Remove the custom ad blocker rule(s) and the page will load as expected.