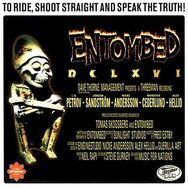 DCLXVI: To Ride Shoot Straight and Speak the Truth is the fourth album by the Swedish metal band Entombed, released in 1997. DCLXVI is 666 in Roman numerals.
The album was Metal Hammer magazine's #2 album of 1997. It was beaten by UK (non-metal) band Feeder's debut album Polythene, but it was ranked above many commercially famous albums from that year, most significantly (non-metal band) The Verve's Urban Hymns.
Track listing
Edit
"To Ride, Shoot Straight and Speak the Truth" - 3:11
"Like This with the Devil" - 2:12
"Lights Out" - 3:36
"Wound" - 2:44
"They" - 4:06
"Somewhat Peculiar" - 3:20
"DCLXVI" - 1:44
"Parasight" - 2:50
"Damn Deal Done" - 3:25
"Put Me Out" - 2:25
"Just as Sad" - 1:52
"Boats" - 3:07
"Uffe's Horrorshow" - 1:19
"Wreckage" - 4:01
Personnel
Edit
Ad blocker interference detected!
Wikia is a free-to-use site that makes money from advertising. We have a modified experience for viewers using ad blockers

Wikia is not accessible if you've made further modifications. Remove the custom ad blocker rule(s) and the page will load as expected.