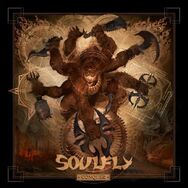 Conquer is the sixth studio album by the band Soulfly. It saw official release on July 23, 2008, in Australia, although the album had leaked early onto file-sharing networks. It was released on July 29, 2008 in Canada and the United States and debuted at #66 on the U.S. Billboard 200 — Soulfly's highest Billboard peak since their 2002 release, 3.
Production
The album was tracked by Tim C. Lau in late 2007 at The Porch Recording Studio in Orlando Florida and mixed by Andy Sneap in early 2008. In promotion for the album, Max Cavalera stated that he had been heavily influenced by Bolt Thrower, Napalm Death and Slayer in writing for this album, which he declared would make Dark Ages sound like a pop album.
A bonus edition of the album was released containing three bonus tracks and a DVD. The DVD features a full live concert from Warsaw, Poland and the music video for "Innerspirit" from the previous album, Dark Ages.
The track "Unleash" was released as the first official single on June 24. The accompanying video was directed by Robert Sexton, and features Dave Peters of Throwdown, who also appears on the album version.
The album sold over 8,400 copies in the U.S. during the first week of its release.
Track listing
"Blood Fire War Hate" (featuring David Vincent of Morbid Angel) - 4:59
"Unleash" (featuring Dave Peters of Throwdown) - 5:10
"Paranoia" - 5:31
"Warmageddon" - 5:22
"Enemy Ghost" - 3:02
"Rough" - 3:27
"Fall of the Sycophants" - 5:09
"Doom" - 4:58
"For Those About to Rot" - 6:47
"Touching the Void" - 7:25
"Soulfly VI" - 5:20
Personnel
Guest performers
David Vincent – from Morbid Angel guest vocals on "Blood Fire War Hate"
Dave Peters – from Throwdown guest vocals on "Unleash"
Fedayi Pacha – guest instrumentalist (duduk, percussion) on "Touching the Void", Dub Outro on "For Those About To Rot"
Jean-Pol Dub - guest instrumentalist (didgeridoo) on "Touching the Void"