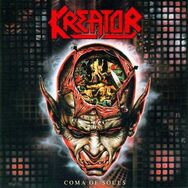 Coma of Souls is the fifth studio album by German thrash metal band Kreator released in 1990. It was reissued in 2002, with the lyrics for the last four songs missing from the booklet. It would be the last album before the band began experimenting with influences from other musical genres. It also would be the last record issued in the US by Epic Records.
Track listing
Edit
"When the Sun Burns Red" - 5:28
"Coma of Souls" - 4:18
"People of the Lie" - 3:15
"World Beyond" - 2:02
"Terror Zone" - 5:54
"Agents of Brutality" - 5:16
"Material World Paranoia" - 4:59
"Twisted Urges" - 2:46
"Hidden Dictator" - 4:47
"Mental Slavery" - 5:43
Personnel
Edit
Kreator
Frank "Blackfire" Gosdzik – guitar
Rob Fioretti – bass guitar
Production
Recorded at Eldorado and Image Studios
Produced by Randy Burns
Engineered by Randy Burns, Steve Heinke, and Jason Roberts
Mixed by Randy Burns and Steve Heinke, July – August, 1990 at Music Grinder, Hollywood, USA
Artwork by Andreas Marschall
Executive produced by Karl-U Walterbach
Also released as limited edition in purple vinyl (US release).
Ad blocker interference detected!
Wikia is a free-to-use site that makes money from advertising. We have a modified experience for viewers using ad blockers

Wikia is not accessible if you've made further modifications. Remove the custom ad blocker rule(s) and the page will load as expected.