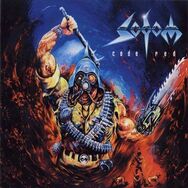 Code Red is the ninth album by thrash metal band Sodom. On this album, Sodom returned to classic thrash metal which pleased many fans. It was also released as a two-disc limited edition with a Sodom tribute album called Homage to the Gods and as a two-disc edition with an Onkel Tom Angelripper's album called Ich glaub´nicht an den Weihnachtsmann.
Track listing
Edit
"Intro" - 0:48
"Code Red" - 3:55
"What Hell Can Create" - 3:32
"Tombstone" - 3:55
"Liquidation" - 2:45
"Spiritual Demise" - 2:51
"Warlike Conspiracy" - 2:50
"Cowardice" - 4:17
"The Vice of Killing" - 4:22
"Visual Buggery" - 3:13
"Book Burning" - 2:34
"The Wolf & the Lamb" - 3:19
"Addicted to Abstinence" - 2:06
The intro sample is taken from the movie "Full Metal Jacket"
Personnel
Edit
Ad blocker interference detected!
Wikia is a free-to-use site that makes money from advertising. We have a modified experience for viewers using ad blockers

Wikia is not accessible if you've made further modifications. Remove the custom ad blocker rule(s) and the page will load as expected.