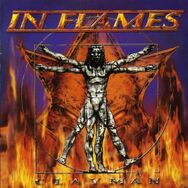 Clayman is the fifth album by Swedish melodic death metal band, In Flames. The album was released by Nuclear Blast in 2000. Most of the lyrics deal with depression and internal struggles. The album's cover art is based on Leonardo da Vinci's drawing, the Vitruvian Man.
The Jesterhead appears in the background, both on the cover, and in the album booklet itself. Music videos were made for Pinball Map and Only for the Weak, with Metal Hammer naming the latter its top 10 death metal song.
Track listing
Edit
"Bullet Ride" - 4:42
"Pinball Map" - 4:08
"Only for the Weak" - 4:55
"...as the Future Repeats Today" - 3:27
"Square Nothing" - 3:57
"Clay Man" - 3:28
"Satellites and Astronauts" - 5:00
"Brush the Dust Away" - 3:17
"Swim" - 3:14
"Suburban Me" - 3:35
"Another Day in Quicksand" - 3:56
Personnel
Edit
In Flames
Additional Musicians
Other personnel
Music written by Björn Gelotte and Jesper Strömblad.
Music arranged by In Flames and Fredrik Nordström.
Lyrics and vocal arrangements by Anders Fridén.
Strong and Smart by Mikael Danielsson and Ingemar Jansson (No Fun at All)
World of Promises by Robert Ernlund and Anders "Gary" Wikström (Treat)
Recorded and produced at Studio Fredman by Fredrik Nordström and In Flames.
Cover and booklet artwork and layout by Axel Hermann.
Photos by Tobias Lundgren.
Ad blocker interference detected!
Wikia is a free-to-use site that makes money from advertising. We have a modified experience for viewers using ad blockers

Wikia is not accessible if you've made further modifications. Remove the custom ad blocker rule(s) and the page will load as expected.