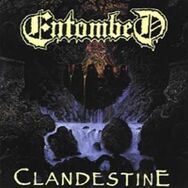 Clandestine is an album by Scandinavian death metal band Entombed, released in 1991. It helped establish a distinctively Swedish sound in the death metal genre, while being more accessible than its predecessor, the atonal debut Left Hand Path. The album was largely written by drummer Nicke Andersson.
Track listing
Edit
"Living Dead" - 4:26
"Sinners Bleed" - 5:10
"Evilyn" - 5:05
"Blessed Be" - 4:46
"Stranger Aeons" - 3:25
"Chaos Breed" - 4:52
"Crawl" - 6:13
"Severe Burns" - 4:01
"Through the Collonades" - 5:39
Personnel
Edit
Entombed - Producer, Engineer
Tomas Skogsberg - Producer, Engineer
Nicke Andersson - Drums, Vocals, Art Direction, Logo, Back Cover, Cover Art Direction
Dan Seagrave - Art Direction, Cover Art
Uffe Cederlund - Guitar, Vocals (bckgr)
Lars Rosenberg - Bass
Alex Hellid - Guitar
Ad blocker interference detected!
Wikia is a free-to-use site that makes money from advertising. We have a modified experience for viewers using ad blockers

Wikia is not accessible if you've made further modifications. Remove the custom ad blocker rule(s) and the page will load as expected.