Celtic Frost
Talk

0
3,010pages on
this wiki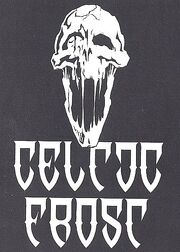 CeItic Frost
are an influential
heavy metal
band from Zürich, Switzerland that formed in 1984 originally. They were primarily a
death/
thrash metal
band on their first two releases, but on their third album of
Into the Pandemonium
, they went into a more experimental, less metal route, along with vocalist
Tom Gabriel Fischer
(known as
Tom Gabriel Warrior
back then) performing with less of a growly vocal style than on the previous two releases.
Then, the infamous Cold Lake was released, with two new members of the band and a total difference in sound, becoming a glam metal band, alienating many of their former fans wanting another death/thrash metal album. The band somewhat returned to their heavier metal roots with the follow-up of Vanity/Nemesis before breaking up, not returning to the metal scene until years later in 2001, finally releasing Monotheist in 2008, then breaking up once more. They are known for their heavy influence on the extreme metal and gothic metal genres.
Noise International Inc., Metal Blade Records, BMG, RCA and Century Media released their material.
Band members
Edit
Final lineup (2008)
Edit
Previous members
Edit
Discography
Edit
Studio albums
Edit
Compilations
Edit
Videography
Edit
Three of Celtic Frost's roadies from the early days -- Roland Broder, Thomas Vetterli, and Markus Edelmann -- would later form the death/thrash metal band Coroner. Tom Gabriel Fischer provided vocals on their demo.