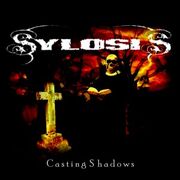 Casting Shadows is the first EP from Sylosis, a British thrash metal band from Reading, Berkshire. The EP was recorded by the band at guitarist Josh Middleton's recording studios, Shredroom Studios in Reading.
Track listing
Edit
"Dark Revelations" – 4:03
"Casting Shadows" – 4:36
"The Bereaved" - 5:09
"Oath of Silence" - 5:05
"Beneath Black Clouds" - 2:39
Personnel
Edit
Ben Hollyer - Vocals
Josh Middleton - Lead guitar
Gurneet Ahluwalia - Rhythm guitar
Carl Parnell - Bass
Rob Callard - Drums
Ad blocker interference detected!
Wikia is a free-to-use site that makes money from advertising. We have a modified experience for viewers using ad blockers

Wikia is not accessible if you've made further modifications. Remove the custom ad blocker rule(s) and the page will load as expected.